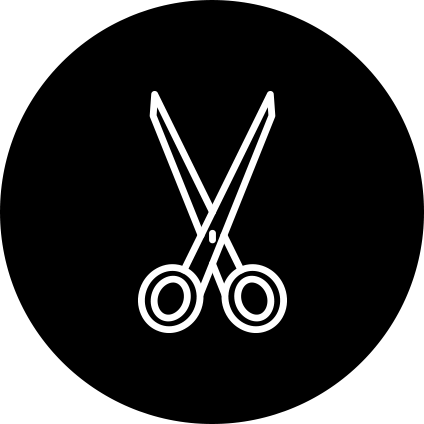 Our Haircare Services
What Sets Us Apart?
Education is continuous so that our stylists stay on the forefront of all hair services. Not one hair care product suits everyone so we have made sure to carry only the best of each hair care line.
Cuts & Styles
| | |
| --- | --- |
| Women's Haircut | $70+ |
| Men's Haircut | $40 |
| Styling and Updos (Style & Braiding Upon Consultation) | Call for pricing |
| Blow Dry Bar | $40 ($50-75+ with curl) |
| Brides | Pricing Varies – Please Call |
| Bridesmaids | Pricing Varies – Please Call |
Color Services
| | |
| --- | --- |
| Partial Highlight | $140+ |
| Full Head Highlight | $160+ |
| Single Process | $70+ |
| Conditioning Color Gloss | $50 |
| Hair Painting & Balayage | $150-250+ |
Treatments
| | |
| --- | --- |
| Keratin Treatment | $300-400+ |
| Keratin Express | $150-200+ |
| Brazilian Blow Out | $350+ |

Haircare Products Used

– Aluram
– Purology
– Wella
Wella Professionals offers salon care that you can experience with your senses. Brought to life via Care3. High performance you can see, touch and sense. Wella products are a great use for anyone with wella color.
– Moroccan Oil
Moroccan oil is made of antioxidant infused, nutrient rich, innovative formulas that are unmatched and provide dramatic results. Moroccan oil has become a hair care industry sensation embraced by celebrities, runway stylists and women the world over. We carry the perfected the Moroccan oil Treatment with their extended lines to include solutions for every hair need. The unique formulas not only leave hair naturally smooth and shiny but also improve its actual condition to make it stronger with each use.
– R+Co
R+Co is a collective of some of the most forward-thinking, rule-bending hairstylists in the business. We are a think tank of top editorial and salon stylists and educators—with a combined century of hairdressing knowledge and experience—and we make sure that we have more than one viewpoint on everything we do.
– OLAPLEX
Our simple three-step process includes a patented active ingredient that works on a molecular level to seek out broken bonds in the hair that are caused by chemical, thermal, and mechanical damage. You can use Olaplex to restore compromised hair, or add it to another service to provide the ultimate breakage insurance.
– Keratin Treatment
A NEW GENERATION OF HEALTHY HAIR
From the creators of the award-winning Keratin Complex™ Smoothing Therapy, KeraHold is an innovation in professional hair color inspired by proven keratin technology. KeraHold replenishes keratin and synergistically fills the porosity caused by traditional coloring processes. Keratin is driven deep into the hair shaft to even out the hair's porosity, allowing color to anchor inside the cortex for long-lasting, even and brilliant results.
Our exclusive KeraHold technology is based on three components of protection for color longevity, healthy shine and brilliant results.
Keratin molecules penetrate the hair shaft, reducing porosity for even color distribution.
Micro-pigmentation technology allows small color molecules to link together inside the cortex for superior, long-lasting results.
Wheat protein fuses the cuticle to seal in softness and shine.
Features:
Luxurious, brilliant results from proven keratin technology.
Delivers reflective, vibrant color and radiant shine—every time.
Keratin fills in porosity for even color distribution.
Micronized pigments anchor inside the cortex for superior longevity.
All KeraHold shades are intermixable and can create an infinite array of vibrant results.
100% oxidative color
100% gray coverage
Lifts up to 4 levels
Extensions
"Here at Salon and Spa by Kimberly Gider, you let us know something about your lifestyle and what you envision for your hair; we share and exchange our thoughts on whether that's suited to your hair type, facial contours, and coloring and whether we think it's a style that will be easy for you to maintain. In the end, we come to a meeting of the minds so you know what your haircut will look like before our stylists even pick up the scissors. Kim works with a talented team of experienced artists which maintain their reputable results. And we'll also let you know how your haircut is progressing as we're cutting it. Whether you're letting your hair grow out, keeping a favorite look, or needing a total makeover with one of the latest styles, we'll make sure the end result looks fabulous!"