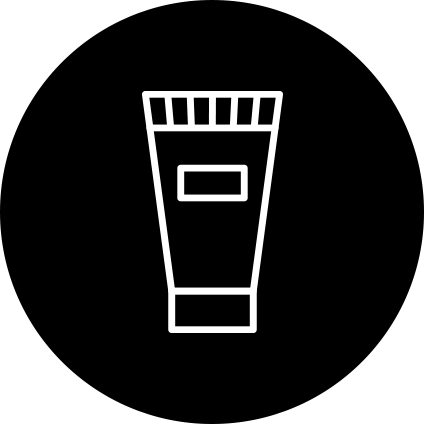 Our Skincare Services
What Sets Us Apart?
We offer facials found in top dermatologist offices with the pampering of a world class spa. Our products are totally free of toxic ingredients. There are no parabens, dyes, artificial fragrances, or any other harmful ingredients used during our treatments
Facials
Vitamin C Peel
$105
Vitamin C Peel with Full Facial
$150
Glycolic Peel
$105
Clay Mask Facial
$105
Diamond Tip Microdermabrasion Facial
$150
Kim's Ultimate Signature Facial – The "Chocolate Tamarind Champagne" Facial
$150
KG Classic Facial
$105
CBD Facial
$150
Diamond Tip & Machine Micro-
dermabrasion
Face: 1 Treatment ($100), 12 Treatments ($1,000)
Neck or Chest: $75+
Shoulders: $50+
Back: $90+
Teen Facial
$90
Men's Cleansing Facial
$90
Aromatherapy Facial
$105
Booster Peel
$105 (with Full Classic Facial +$65)
Micro With Peel
$198 (with Classic Facial +$40)
24 Karat Gold Skin Renewal Facial
$300.00
Microneedling
$300.00
Skin is the body's largest organ- a living, breathing organ- so it makes sense that everything that goes into and onto the body not only impacts overall health, but the appearance of the skin. As esthetic professionals, our primary goal is to create healthy, youthful skin for our clients…
Facials
Classic Facial
This renewing and moisturizing facial begins with a thorough bromeline enzyme exfoliate. Followed by a deep hydrating antioxident mask, leaving you looking and feeling revitalized and exuberant. Facial massage included to pamper your mind and soul.
CBD Facial
Get all of the benefits of our Classic Facial with CBD! Here is some information on the benefits of CBD on your skin. Questions? Call us!
CBD has been studied for its relaxing, pain-relieving, and anti-anxiety properties when taken internally, but recent research has shown that it also has calming and therapeutic benefits when applied topically to the skin. It has been shown to help reduce pain and inflammation caused by inflammatory skin conditions, and may even help ease the discomfort of headaches. CBD also has potent antioxidant effects, which means it may help counteract signs of aging caused by free radicals.
CBD is safe and effective for all skin types, but especially helpful to people who struggle with inflammatory skin conditions, skin sensitivity, headaches, skin dryness, and acne. Because of its powerful anti-inflammatory properties, CBD can help support the skin's natural healing process, shortening the lifespan of breakouts and eczema/psoriasis flare-ups. If you are struggling with skin issues, consider using CBD as an effective skin care solution.
Vitamin C Peel
Vitamin C peel is not recommended for sensitive skin. It is much stronger then a Glycolic peel, removing the top layers of the epidermis. This peel, though potent, will minimize the appearance of wrinkles, fine lines, acne scars. This treatment will leave the skin looking polished and exuding an unbelievable glow. You may add a Vitamin C Peel to a full facial.
Vitamin C Peel with Mask
Same as Vitamin C Peel, but includes a deep hydrating antioxidant mask for maximum results.
Glycolic Peel
This natural fruit acid peel does not include a massage, but its benefits are endless for people suffering from acne prone and sun damage skin. The facial is key, visibly improving the texture and tone of the skin. You may add a Glycolic Peel to a full facial.
Clay Mask Facial
This comprehensive acne therapy facial reduces the appearance of large pores and acne while balancing the pH of oily skin. This facial is ideal for renewing and repairing problem skin. Only the best products for each individual will be chosen before your service.
Diamond Tip Microderm Abrasion Facial
Treatment options are machine or manual. The latest skin-renewing facial gently but efficiently removes the surface layer of the skin to reveal brighter, silky smooth skin. This facial restores a youthful, glowing appearance while improving skin discoloration, minimizing fine lines, wrinkles, and acne scaring. Additionally this comprehensive facial reduces the appearance of blemishes and reduces pore size.
Kim's Ultimate Signature Facial – The "Chocolate Tamarind Champagne" Facial
This exotic facial increases micro-circulation using a chocolate tamarind mask. This completely cleanses out the pores giving skin an exceptionally smooth look and feel. This ultimate facial leaves you looking and feeling rejuvenated, renewed and pampered. *NOTE- due to the strength of the chocolate tamarind, skin may appear flushed up to an hour after this exotic facial.
KG Facial
The KG Facial is only performed by Kimberly Gider which includes deep cleansing, exfoliation, and 2 masks. Included is a scalp, hand, and arm massage with full face and decollete manipulations for a full skin renewal and relaxation.
Diamond Tip and Machine Microdermabrasion
Options include Face, Neck, Chest, Shoulders, or Back.
Teen Facial
Our formulated teen facial has been developed specifically for deep-pore cleansing. It gently extracts impurities from the skin and eliminates bacteria that can cause acne with only the use of natural facial manipulation, organic products, steam and a proprietary customized treatment mask is then applied to restore skin to a fresh, clean, and radiant state. Effective and affordable for teens.
Express Facial
Thorough cleanse and exfoliation with refining mask and choice of arm or scalp massage. For those who need the beautification but don't have the time.
Men's Cleansing Facial
This is a therapeutic treatment that addresses the unique concerns of men such as ingrown hairs and sensitive or irritated skin. A deep cleanse and exfoliation will assist in treating a variety of skin ailments while you relax during a scalp massage.
Aromatherapy Facial
A full classic facial including aromatherapy and extra massage. Aromatherapy is an art. Aroma oils are highly concentrated. Therefore, it is important to use essential oils in a proper combination while making use of this therapy. Skin absorbs the aroma molecules in these essential oils making you feel better from within. The facial hydrates skin and removes toxins. A small amount of essential oils can do wonders. Aromatherapy is used to cure simple as well as acute or chronic diseases. The essential oils when breathed deeply enter the lungs and then travel through bloodstream. They slowly spread throughout the body and start showing their healing benefits.
Booster Peel (or with Full Classic Facial)
This peel is specifically designed to smooth out fine lines, firm the skin, clean out clogged pores, reduce sun damaged skin layers, and promote the production of healthier skin cells. Excellent in reducing pigmentation spots, acne, dry skin, wrinkles and fine lines. Depending on severity of skin problem, "down time" may be expected.
Micro with Peel (or with Classic Facial)
Micro peels are an important adjunct to skin care. Micro peels maximize and expedite the results that can be achieved through skin care. Micro peels are the lightest of all chemical peels. They will smooth and soften your skin, brighten your complexion, minimize pore size, and reduce discoloration. Some note an improvement in fine wrinkles.
Following each peel, your dead superficial skin cells will invisibly shed. You will see the maximal effect two weeks after each peel. Six peels are usually required at two week intervals to achieve optimal results. Thereafter, you may maintain your results with micro peels every one to three months. Micro peels are used in conjunction with a skin care program for best results.
24 Karat Gold Skin Renewal Facial
Enlighten, Brighten, & Tighten – For a Brand New You.
Our 24 Karat Gold Skin Renewal Facial is the ultimate in skin care services.This rejuvenating and stimulating facial begins with a thorough cleansing and exfoliation using our 24 Karat Gold Peel to slough away all skin impurities. Our Papaya Bromelain mask will then gently break down the protein in the dead skin cells to give your skin an improved tone, texture, and smoothness. (Extractions included if required) Followed by an extended facial massage to enhance and increase blood circulation, skin cell metabolism, and collagen production. While our 24 Karat Gold mask enhances the texture and complexion of your skin, reduces fine lines and wrinkles, and slows collagen depletion you will feel the ultimate pampering of an extended hand and arm massage with our luxurious essential oils. To allow you to experience maximum results we complete your skin service with our 100% Natural and Pure Vitamin C Complex to replenish, moisturize, calm, and brighten skin. After your service we invite you to indulge in a complementary glass of champagne to complete your spa experience.
Interesting fact: Cleopatra the Pharaoh of Ancient Egypt was known to sleep with a gold mask on her face every night. It has been said that she possessed the brightest and youngest looking skin in all of Egypt. Her flawless complexion has been credited to the use of her gold-infused skin care regimen.
Microneedling
Microneedling is an effective tool in anti-aging skin care. This therapy lifts and tightens the skin while providing texture improvement and scar treatment for all ages and skin types. With Micro Skin Needling you get smoother and younger looking skin without the side effects or downtime of cosmetic surgery and lasers.